Scientific Review Committee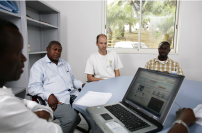 The scientific review committee ensures that only research projects that meet high standards of scientific quality are carried out at CERMEL. Every research project undertaken at the center must first be reviewed by this committee.
Background
CERMEL has a policy of being an open and transparent structure, and welcomes research projects from a variety of sources. Research projects must be of high scientifically quality, feasible with the rescources available and must fit within the research interests of the institution. The implemention of the SRC also allows CERMEL to determine, for any given time point, the number and details of ongoing studies, of completed studies and of studies in preparation.
Scope
The SRC reviews the following characteristics of a project proposal
Scientific quality
Scientific interest
Ethical considerations
Feasibility of project
Relationship to

CERMEL

research policy
Relationship to national research policy
Members
The committee comprises of core members and extended members. Members are chosen based on professional experience and training and on their familiarity with CERMEL. Core members review each research proposal. Extended membe 67rs may be included in the review process, depending on the protocol and area of expertise of external members.
Submission and review procedures
SRC review is performed prior to submission to the Ethics Committees. If drafts and outlines of projects are submitted, a review of the final version is still necessary. Submission to the Ethics Committee or to sponsors may be done before SRC review is completed, but the head of SRC should be informed in this case.
Reviews are on an ad-hoc basis. Protocols are submitted to the head of the SRC , who performs an initial review and decides on the inclusion of external reviewers. To submit a proposal, download the submission form and send it together with the protocol, the informed consent form and, if needed, other documents to the president of the SRC at the email address below.
Contact
Email: src[at]cermel.org
Forms
You can download the Submission Forms here
A document to help to characterise the study design an be found here