Information Technology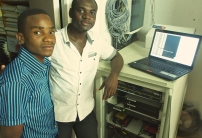 The Information Technology Department oversee the computer network and its internet connection services. The IT department has put in place a professional network with file-, mail-, webproxy-, and backup- servers running mainly on the Ubuntu Linux operating system. The internet connections via VSAT (satellite), DSL (telephone line) and EDGE (mobile phone network) is also maintained by the group.
The IT help desk takes care of computer, printer, connection problems of the staff. Designing and maintaining the website of CERMEL and that of research projects also falls into the responsibility of the IT department.
The department is currently overseeing the installation of a VoIP phone network among 5 research centers in Gabon, Cameroon and Republik of Congo. The network is based on the Asterisk VoIP telephone system.
Recently, all applications and data were migrated to a visualization platform, based on XenServer 6.2. A high availability system was set up, to allow continued functioning of the system in case of failure of one server.
Staff
| | | |
| --- | --- | --- |
| | Bertrand Lell | Supervisor |
| | Ardile Bongo Borogo | Head of Department |
| | Ulrich Ndong Abessolo | Information Technologist |
| | David Anthony Mintsa Menie | Information Technologist |