Information Technology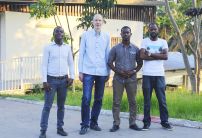 The IT Department oversees the computer network, the internet connection services, as well as the maintenance of the website and of various technical infrastructure.
Staff have access to a file management system with local and remote data backup. The messaging service is hosted on a remote virtual private server. The department also maintains the internet connections via VSAT (satellite), ADSL (telephone line) and 3G (mobile telephony network). These networks are distributed to users by WiFi. The two campus are connected via a Ubiquiti Powerbeam antenna. Particular emphasis is placed on security and network access control with the use of our PfSense firewalls.
Maintenance of technical infrastructure such as the printers, the temperature monitoring and alarm system, time and attendance system, etc. is part of our tasks as well. Our helpdesk service deals with daily maintenance tasks and assists staff through a ticket system.
In the future, we hope to improve the internet connection through connection to the national backbone.
Staff
| | | |
| --- | --- | --- |
| | Bertrand Lell | Supervisor |
| | Ardile Bongo Borogo | Head of Department |
| | Ulrich Ndong Abessolo | Information Technologist |
| | Cédric Otchague | Information Technologist |