Clinical Research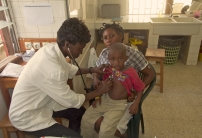 CERMEL has a long and successful history of performing clinical trials and epidemiological studies.
Intervention Trials
Over the past 25 years, the group has performed phase I, II and III clinical trials mainly in the field of antimalarials. The majority of drugs currently used to treat malaria were at one point evaluated for safety and efficacy in Lambaréné. These include atovaquone-proguanil, artesunate-amodiaquine, intravenuous artesunate for severe malaria, quinine-clindamycin combinations, fosmidomycin are among the antimalarials evaluated by CERMEL in recent years.
Recent large intervention trials include the evaluation of RTS,S and GMZ2 malaria vaccines. Within the MIPPAD study, over a thousand pregnant women were treated and followed-up to find new prophylactic antimalarial regimens in pregnancy.
The clinical trials are performed according to "Good Clinical Practice" guidelines. The quality of the data is assured by a local clinical trial monitor. Data management is performed using OpenClinica, and supervised by the data management department.
Current research projects include evaluation of Fosmidomycin-Piperaquine against malaria. Recent clinical trials against helminths include the evaluation of the efficacy of various albendazole treatment regimens against soil-transmitted helminths and mefloquie against Schistosoma haematobium.
Publications
Publications for intervention trials can be found here
Epidemiological Studies
Over the past 25 years CERMEL has performed numerous epidemiological studies, mainly in the field of malaria, schistosomiasis and other infectious diseases.
Malaria
Together with RTS,S consortium of 11 research centers in Africa, the transmission intensity of malaria was measured over three years. The data will help to analyse data on the RTS,S malaria vaccine.
Tuberculosis
The tuberculosis group is currently performing a study to characterise all cases of tuberculosis in the Lambaréné region. Samples from patients with suspected TB are collected and tested for sensitivity to various drugs. Household contacts are visited to identify cases transmitted within families. More information can be found here
Soil-transmitted Helminths
The group of Dr. Akim Adegnika is leading a study to look at the effect of co-infection of malaria and soil-transmitted helminths in pregnant women and their offspring. A similar study looks at these effects in schoolchildren. This study is part of the IDEA consortium.
Bacteria
Several epidemiological studies have looked at the prevalence of Staphylococci and other bacteria in the population and environment. Publications of the last five years can be found here
Staff
| | | |
| --- | --- | --- |
| | Bertrand Lell | Director |
| | Ayola Akim Adegnika | Director |
| | Maxime Agnandji Selidji | Director |
| | Marguerite Massinga Loembe | Senior Biologist |
| | Abraham Alabi Sunday | Senior Biologist |
| | Ghyslain Mombo Ngoma | Research Physician |
| | Rella Zoleko Manego | Research Physician |
| | Anita Kabwende Lumeka | Research Physician |
| | Pamela Angoissa Minsoko | Co-ordinator |
| | Emmanuel Bache Bache | Internal Monitor |