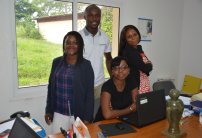 The Human Resources and Logistics Department is made up of two complementary areas of activity.
On the Human Resources side, the Department deals with issues of administration, mobilization and development of staff involved in the functioning of the Center. Indeed, beyond strictly operational matters such as leave management, preparation of work contracts or management of personnel folder's according to current quality standards, the department bases itself on a strategic view that consists of promoting communication within the organization and of insuring the anticipatory management of staff positions and skills, through recruitment or staff training.
On the Logistics side, the department deals with issues concerning the movement of people, material and equipment and the purchase of goods and consumables which are useful to the Center's functioning. It carries out fleet management as well as storage management, and manages any type of work performed at CERMEL by an external contractor.
These two activities support the implementation and coordination of different projects conducted at CERMEL.
Contact:
Tel : 07.98.91.91 - 02.85.51.13
Email: espace-emploi[at]cermel.org
Staff
| | | |
| --- | --- | --- |
| | Regine Minkoue | Head of R-H & Logistics |
| | Lea Komba Matsiaba | Logistics Assistant |
| | Carly Lauriane Mamanou Zogo | R-H Manager |
| | Gaelle Diane Moussavou | R-H Manager |
| | Natacha Anita Mamboundou Dolet | Inventory Manager and Logistics |
| | Prisca Sandrine Léontine ADA | Administrative Assistant |
| | Yasmine Sandrelle Ngana Maroundou | Logistics Assistant |
| | Francois De-Sales | Head of Driver |
| | David Dikongo Madouma | Driver |
| | Gildas Nzenget | Driver |
| | Stephane Nzondo | Driver |
| | Eric Landry Madongou | Driver |
| | Henri-Joel Moukondigui Nzoga | Driver |
| | Nelson Manondzo Nicaise | Driver |
| | Val Verlin Balouka | Driver |
| | Marie Estelle Mouanavetata Limbimba | Head of Cleaning Staff |
| | Sandrine Bakadi | Cleaning Staff |
| | Lucienne Bita | Cleaning Staff |
| | Lauriana Nze Biye | Cleaning Staff |