Finance & Accounting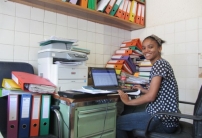 The Finance and Accounting Department assures that the financial activities of CERMEL are performed to highest standards and enables the smooth running of research activity by assisting with the budgeting, payments and financial reporting of research projects and of the Centre.
The Department performs two major services to CERMEL, namely the accounting for daily activity and provision of finance expertise for research budgeting and financial reporting activities. The department makes sure that each financial transaction is in accordance with funding agencies guidelines, local regulations and financial procedures of CERMEL.
The department also provides budgeting and reporting services for researchers to ensure that research projects are budgeted in a realistic and professional manner. Financial reports are issued by the department in close collaboration with the principal investigator. The department also provides overall direction and leadership to the Centre by establishing financial management policies and procedures.
The department is the focal point for cashier services, cash reconciliation, payments to vendors, payroll, review of travel claims, management of stocks, inventory of fixed assets, financial reviews by funding agencies, audits, general ledger maintenance and reviews, and other accounting services.
Staff
| | | |
| --- | --- | --- |
| | Scherif Olouyomi Adegnika | Head of Department |
| | Sandrine Jeanne Delbrah | Accountant |
| | Loic Brandon Mouriele | Accountant |
| | Emerance Doria Hugues's Balla Zue | Accountant |
| | Carle Darène Zang Zang | Accountant Assistant |
| | Isaac Manembeth Nyamat | Accountant Assistant |
| | Charlotte Bonje Mboyi | Accountant Assistant |