Research Laboratory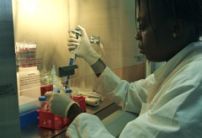 The research laboratory comprises both molecular biology and immunological activities.
It is well equiped with several cytometers, EliSPOT, multiplex analyzer, RT-PCR thermocyclers and sterile workbenches at the disposal of the research group.
Samples are stored in a minus 150 freezers, several -80 freezers. The temperature is controlled by an IceSpy temperature logger and alarm system.
Staff
| | | |
| --- | --- | --- |
| | Rodrigue Bikangui | Supervisor of the Laboratory |
| | Eunice Betouke Ongwe | Biologist/PhD student |
| | Yoanne Darelle Mouwenda | Biologist/PhD student |
| | Anne Marie Nkoma Mouima | Biologist |
| | Georgelin Nguema Ondo | Biologist |
| | Marien Juliet Magossou Mbadinga | Biologist |
| | Ayong More | Biologist |
| | Rafiou Adamou | Biologist |
| | Charlène Mouloungou Mangui | TSBM |
| | Yoric Yali Assy Oyamli | TSBM |